Scroll your social feeds, and you'll see that taking a break from booze has become a huge trend, especially around the New Year. In the past, non-alcoholic options were pretty limited, but lucky for those of us experimenting with a zero-proof lifestyle, craft beverage makers are really stepping up to the sober-curious trend with interesting options that go way beyond sweet sodas and are anything but boring. And smart retailers are taking note: "After seeing a bigger trend of taking a breather from drinking and also folks asking if we carried any non-alcoholic wines, I decided it was time to jump on the trend," says Meredith George, owner of the St. Joe Wine Shoppe inside The Market in downtown St. Joseph.
Whether you're trying a Dry January or Whole 30, don't drink at all, or just want to have a great option on hand for your non-drinking guests, here are 5 alcohol-free beverages you'll want to have on hand in your home bar. With their botanical blends, herbaceous bites, and endless mixing opportunities, these bold bevvies prove that mocktails don't have to be kid stuff.
Created in Southwest Michigan and Chicago as "A love letter to the Great Lakes," Vers-eau is a totally unique drinking experience. Created from locally-sourced grapes and botanicals, it swirls like a bold red wine in your glass, which was enough to get my attention. While Ver'Seau is made for mixing – sparkling water is a great place to start – I actually enjoyed sipping it straight: it's reminiscent of the red wines I love, but with an herbaceous, slightly bitter finish that's all its own. Stop into the St. Joe Wine Shoppe inside The Market downtown St. Joseph, this Sunday, January 9 from 1-5 PM EST to meet the maker and sample Ver'Seau for yourself!
This company was born right here in Southwest Michigan – Bridgman, to be exact – where they create refreshing sparkling fruit tonics with definite "adult beverage" appeal. Poured over ice, the tart, tongue-stinging bite of the Cherry, Ginger + Chicory tonic reminded me of a Michigan Mule. Available locally at Emma Hearth & Market in Bridgman, The Sandpiper in Bridgman, Sawyer Garden Center, Dad's Farm Cafe at The Market in St. Joseph, and many other locations: check website for a full listing and to find out more about delivery options.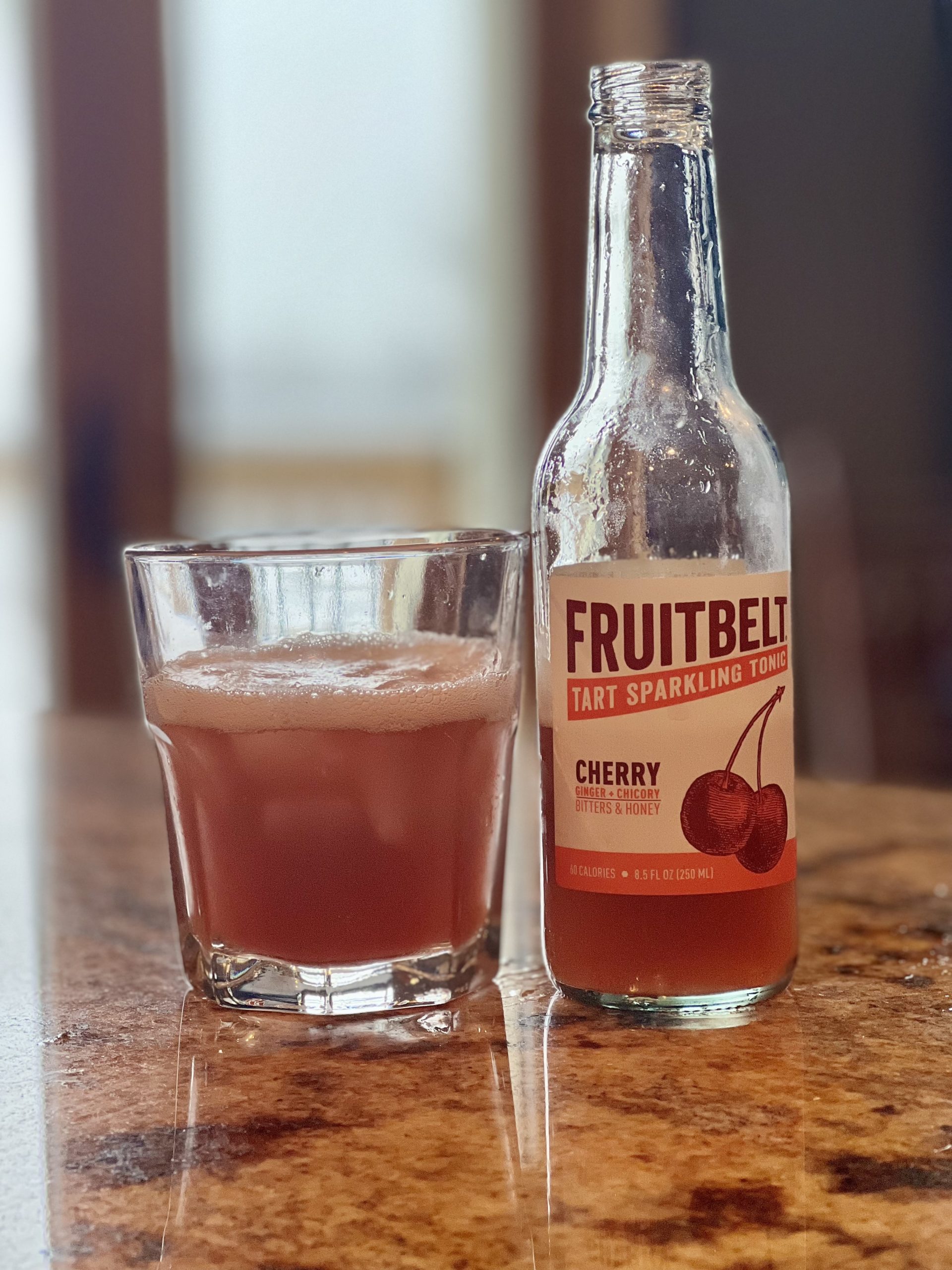 WYLD CBD Seltzer + House-made Juice From Dad's Farm Cafe
The science is still unclear on whether CBD beverages are potent enough to have a therapeutic effect, but I know I felt a little buzz of excitement when I had the idea to mix the WYLD Blood Orange Seltzer with the house-made Strawberry-Rose juice from Dad's Farm Cafe. It was delicious, refreshing, and a great way to kick off Dry January. Dad's carries juices and CBD seltzers in several flavors, so I'll be going back soon to try out some new concoctions.
If you're someone for whom "celebration" and "bubbles" go hand-in-hand, you may feel like dry life is lacking a little…well, sparkle. Enter TÖST . It's not your typical alcohol-removed wine – in fact, it's not wine at all, but a fizzy concoction created from white tea, cranberry, and ginger that, as St. Joe Wine Shoppe owner Meredith George says, "definitely scratches that itch."
These infusion kits may seem tailor-made for a boozy mix, but they can also be made into a delicious alcohol-free creation. Anne Reitz, owner of Caffe Tosi in downtown St. Joseph, whipped up an alcohol-free infusion of the Lady Violet mix, which she blended with coconut milk. Everyone loved it, she said, noting its "Very bold citrus notes that balanced with the coconut milk." Stop into Caffe Tosi to pick up the Lady Violet or one of the other Camp Cocktail flavors, like pineapple jalapeño.
Looking for more Dry January or sober-living inspiration? Check back soon for an article about the best mocktails being served by local mixologists in Southwest Michigan bars and restaurants!