Brandon Campbell can relate to Black entrepreneurs. As the director of The Women's Business Center at Cornerstone Alliance and a former full-time entrepreneur himself, he strives to provide Black business owners in Southwest Michigan with the resources he didn't receive so they don't have to do it alone. According to Campbell, "A thriving Black business community is essential to the success of an entrepreneurial ecosystem in any region. When Black businesses achieve, we all do."
The WBC is a premier entrepreneur service provider for Black, Latinx, Asian, and woman-owned businesses in Berrien, Cass, and Van Buren Counties. For over three decades, the organization has served as a one-stop-shop for local entrepreneurs wanting to start, maintain, sustain, and expand their businesses. Services provided (at little to no cost) include one-on-one confidential business coaching, topical training, technical assistance, and information on new Small Business Administration (SBA) funding opportunities. Black entrepreneurs represent The WBC's largest minority demographic with an 11% increase in client base within the last few years. Campbell states, "The WBC has been proactive and assertive with addressing issues that some Black entrepreneurs are experiencing (as a result of the pandemic) and trying to ensure that Black businesses stay in business."
This article is part of our ongoing series highlighting small businesses in Southwest Michigan, with a specific focus on Black-owned businesses in our area. The three businesses featured are success stories in their own right and, as clients of The WBC, shining examples of the power of partnership.
NS Cosmetics
When the pandemic hit in 2020, Naomi (14) and Neriah (12) Stephens decided to put their passion for make-up to work. What began as a positive way to occupy their time during a difficult season quickly grew into a thriving business, and NS Cosmetics was born. NS Cosmetics is an organic and natural beauty company specializing in cosmetic products made from simple, quality ingredients. They offer lip gloss, lip oil, lip balm, setting powder, face serum, body butter, and more.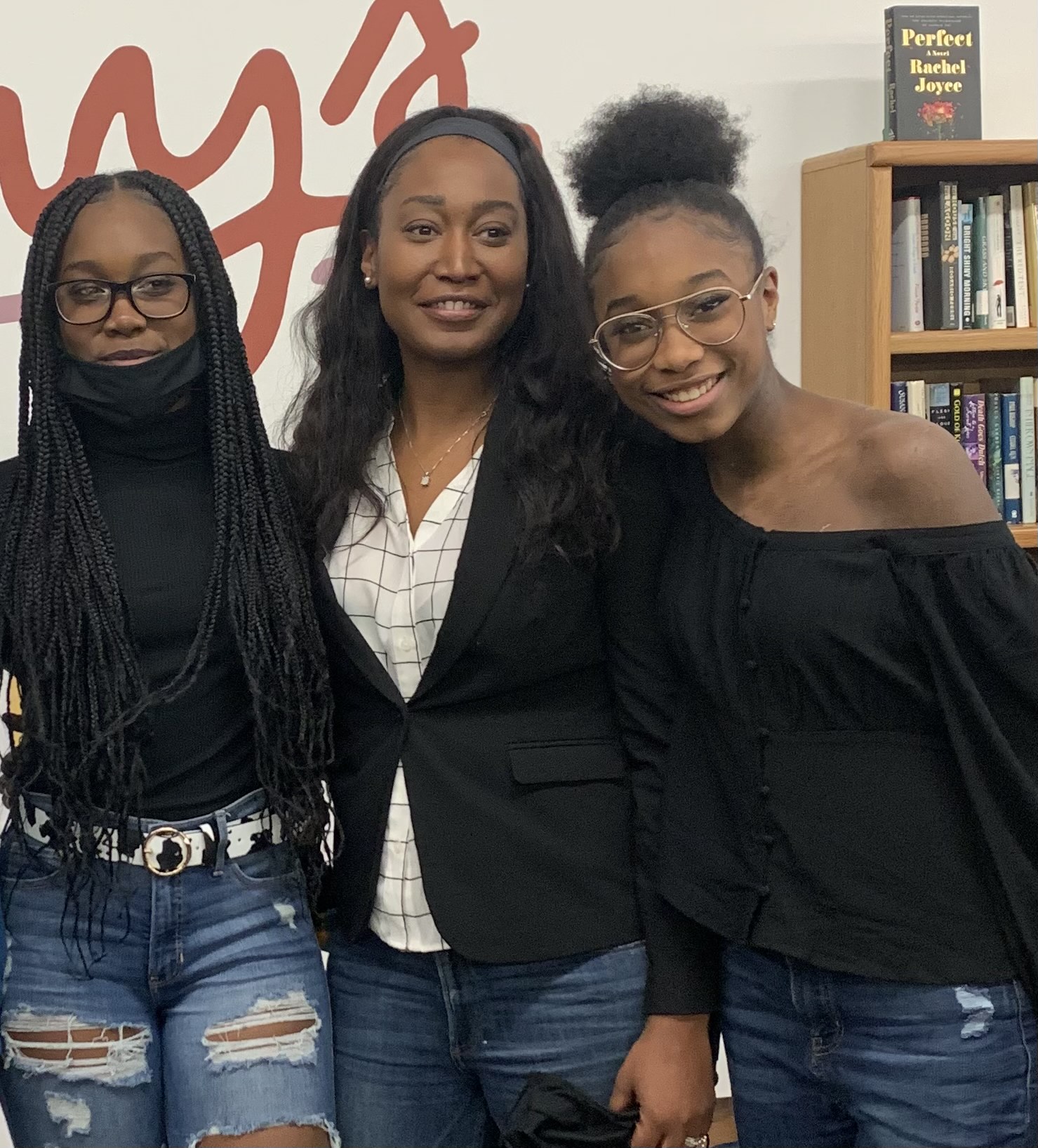 As demand for their products grew, so did their vision for the brand. Recognizing their potential, their mother, Ashley Stephens, came on board to act as CEO of the company and assist in running the day-to-day operations as well as strategic planning. According to Ashley, "Each product is made with the same passion from start to finish. They bottled their dreams, aspirations, and love for others and pumped it out one lip gloss and lip balm at a time." Naomi and Nariah want their products to bring joy through simplicity, resulting in their tagline of "Keep it Simple."
This ambitious trio has a lofty goal: to change the cosmetic industry by providing products made from clean, non-toxic ingredients. As their business and brand continue to grow, they recognize the importance of community support. Ashley now serves as an active member of The WBC Advisory Council, a team of of local professionals who provide guidance, technical assistance and advocacy for The WBC. According to Ashley, "The WBC has been a pillar for the company's success, providing them with a wealth of educational resources and a network of other small organizations to assist in the development of their business."
Lange Investigation and Consulting Service
After retiring from law enforcement in 2014 and wanting to stay involved in his community, Roger Lange asked his wife for advice on what he should do next. Her response, to "Do What You Know" led to the formation of Lange Investigation and Consulting Service. Lange ICSS specializes in site security for residential and commercial properties as well as real-time monitoring. In addition, they offer public security for festivals, sports events, concerts, and private events. Roger also serves as a process server, mediator, investigator, and security needs consultant. His team includes current and former police officers with real experience in security and investigations.
Lange started the company with the ultimate goal of turning it into a family business. This dream is now a reality as his son Roger II serves as the Director of Operations, his wife Lacy manages various tasks in the office, and his son Cody, employed by the Berrien County Sheriff's Department, helps cover vacancies on his days off.
As a client of The WBC, Roger is an advocate for partnerships between small businesses and the communities they serve. Whenever possible, he believes local dollars should support local businesses. According to Roger, "Small local businesses tend to hire from the community that surrounds them which helps promote community growth."
As his business thrives, he plans to expand his services by offering a certified security training program this summer for members of the community. The course will be available for anyone interested in the security field. Upon completion, participants will receive a certificate from an accredited certification course in security.
Express Employment Professionals of Southwest Michigan
Afiya Latham has a passion for people and business. As one of the owners of Express Employment Professionals of Southwest Michigan (along with Ryan Smith), she gets to spend each day doing what she loves – helping people take care of their families by providing them with meaningful employment.
Express Employment Professionals is a local employment agency that has been helping people find jobs in Southwest Michigan since 2007. Afiya was hired by the original owner, Steve Murray, in 2016 and provided with the opportunity to purchase the business in 2019. Afiya recalls, "While working at Express I was mentored by Steve Murray who saw my potential and strengths and poured into me. I purchased this business because Express has changed my life in such a positive way and I want to continue to change the lives of those in my community through economic growth."
According to Afiya, "Our goal is to find permanent, long-term positions at some of the best companies in our area. We accomplish this by building relationships with and providing a valuable service to businesses in Berrien, Cass, and Van Buren counties. Our service has a direct impact on the sustainability and growth of our clients by connecting them to the talent they need to be successful."
As a client of The WBC and member of the Advisory Council, Afiya benefits from the resources provided by the entrepreneurial service and uses her talents to give back and help women start businesses in Southwest Michigan. She considers small businesses to be the "heartbeat of our community" and points to the fact that 49% of all Michigan workers (1.9 million) are employed by small businesses (2020 Small Business Profile).
Surviving and Thriving
Black-owned businesses represent a powerful subset of the American economy, reflecting an estimated 134,567 companies with $133.7 billion in annual receipts, 1.3 million employees, and about $40.5 billion in annual payroll (U.S. Census Bureau). The pandemic brought on a boom in Black-owned businesses, and the Kauffman Foundation's annual study found that in 2020 there were more new Black-owned businesses proportionate to the total population than at any time in the last quarter-century. But the pandemic also brought on unique challenges, and Brandon Campbell wants Black entrepreneurs to know that, "The WBC is here as a dependable resource to help them thrive as business owners."
About the Writer: Stacey Martin is a local author and freelance writer with a passion for promoting Southwest Michigan. She is the author of We Grow Kids Here and New Girl at Church, and the creator and host of "The Folks Back Home" podcast. She's a former marketing executive and current Domestic Director of a house full of kids. Find more of her writing at staceymartinwrites.com.