The temperatures may be turning a little more chilly, but there's still plenty of beautiful autumn weather left in Southwest Michigan. What better way to enjoy our area's abundant natural beauty than from the seat of a bicycle on one of our area's miles of bike trails? Whether you're a beginner or an old pro, get your feet on those pedals and check out one of these favorite, mountain-biker-recommended trails this weekend:
Whirlpool's Lakeview Bicycle Trail
The newest addition to Southwest Michigan's network of trails, the Lakeview trail – the first phase in a network of public trails which are planned to connect businesses in St. Joseph, Benton Harbor, and Benton Township – opened in September, 2022 and features nearly five miles of well-maintained clay and dirt trails with a mix of berms, pumps, bridges, ramps, and a few jumps to delight mountain bikers of all skill levels.

Joe and Amanda Rodgers, St. Joseph residents who mountain bike often with their family, have appreciated this addition to the Southwest Michigan mountain biking scene. "I'm really enjoying the quick load-up to squeeze in a nice ride in the middle of my day," says Amanda, who describes her mountain biking skills as "moderate" but says that an optional advanced area will challenge even expert cyclists. Joe adds, "The Lakeview trail was obviously professionally designed and is a modern flow trail that is very doable for beginners and fun at any speed and skill level. I'm really thankful Whirlpool has chosen to create it – they've done a great job so far."

The Lakeview trailhead starts off Monte Rd. on the north side of Whirlpool's research and engineering campus, and is open to the public, with free parking available near the trailhead.
Chikaming Township Park and Preserve
Featuring more than 6 miles of mountain biking trails and beautiful views, this often-quiet park on Warren Woods Road in Three Oaks offers a surprisingly technical and challenging ride that still offers an enjoyable experience for beginners. "Chikaming is a good introduction to more challenging wooded single track," says Joe Rodgers, who emphasizes the intelligent use of the natural landscape. "It's very wooded with short-ish climbs and descents, tight squeezes between trees and roots to be mindful of, and it's a lot of fun for moderate skill levels. The climbs and descents are shorter and more doable than the trails at Andrews." Check reviews at TrailForks and AllTrails for more details and tips.
The Trails At Andrews
With dramatic ups and downs and steep climbs, advanced mountain bikers get their thrills at these off-the-beaten-path trails tucked between US Highway 31 and the Andrews University campus. Of the local options, "The Trails at Andrews is the longest and most challenging by a good margin," says Joe Rodgers, citing long climbs and fast, rough descents. "It's challenging at every turn." The 10-mile trail system is a hand-built single track with more than 1,000 feet of vertical elevation per lap, though the trails also offer a short "warm-up" loop if you're just getting your mountain-biking legs.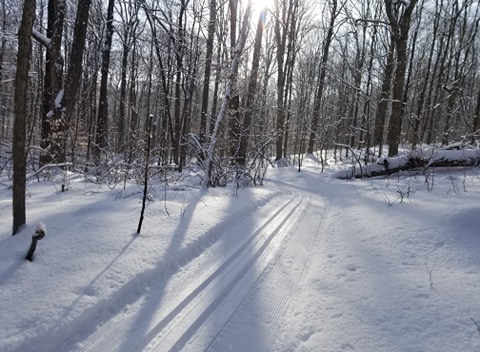 Love Creek County Park
3 miles of dedicated biking trails nestled inside Love Creek County Park, a regular haunt for local nature-lovers, offers cyclists views of marshes, prairies, and mature forest that offers a relaxing ride for intermediate and advanced mountain bikers and a great spot for beginners to build skills. Love Creek County Park rents mountain bikes to both adults and kids, as well as fat-tire bikes for snowy-weather cycling. Add it to your winter bucket list this year!