It is no secret that the past few years have been quite unconventional. However, one thing that remains true is that our world is everchanging. As such, I would like to introduce a couple new faces to the Southwest Michigan business community. 
Owned and operated by Courtney Cohen and her husband, Brady, Classy Coupe is located in St. Joseph. I had the pleasure of speaking with Courtney to obtain some insight on their dream and inspiration for their new business. First, I want to dig into the two incredible people who own this new and aspiring business. Both Courtney and Brady are originally from the Southwest Michigan area; she is originally from Portage and he from Fennville. They moved away for several years to explore, but ultimately decided to come back to West Michigan to be near family and start their businesses. They not only are the owners of Classy Coupe, but also of Southwest Michigan Cycleboat and Water Taxi, both located in St. Joseph as well. To say they are go-getters seems to be an understatement, am I right?
Courtney and Brady opened the virtual door of their new business earlier this month. Their first season will begin as of April 2023 and end October 2023. However, if you are looking to book in their off season, after October of 2023, they are more than happy to meet with you and be of service!
The couple was inspired to create Classy Coupe while on vacation in Italy. While visiting they found a refurbished 1969 Piaggio "Ape" mini truck. After thinking of a name for their new-found Ape, they settled on Cátia! This name was inspired by their favorite chef from their time in Italy. Cátia can be used as a standalone alcohol vendor for events with guests ranging from 20 to 300; or paired with a full-service bar for larger events. Let's be honest, who wouldn't want this adorable, yet very classy, mini truck at their event along-side a full-service bar?! One of the best perks of Cátia is that it is customizable. With four taps, you can select the beverages that will be available during your event. 
As mentioned before, Cátia is now available for event bookings beginning in April of 2023. They recommend that you book at least one to two months in advance to ensure they are available on your desired date. If your event is within a 25-mile radius of St. Joseph, the delivery is FREE! Yes, absolutely free! How cool is that?
While speaking with Courtney, one thing she said she wanted people to know and remember about Class Coupe is "it is the first and only mobile bar in our area." and it is "a unique experience for any event." Courtney and Brady Cohen have brought their vision to life and are now available to help be a part of your special event! So, if Cátia, the 1969 Piaggio "Ape" mini truck piques your interest, contact Courtney at classycoupeswmi@gmail.com or 1-833-MYCOUPE. Don't wait, book today!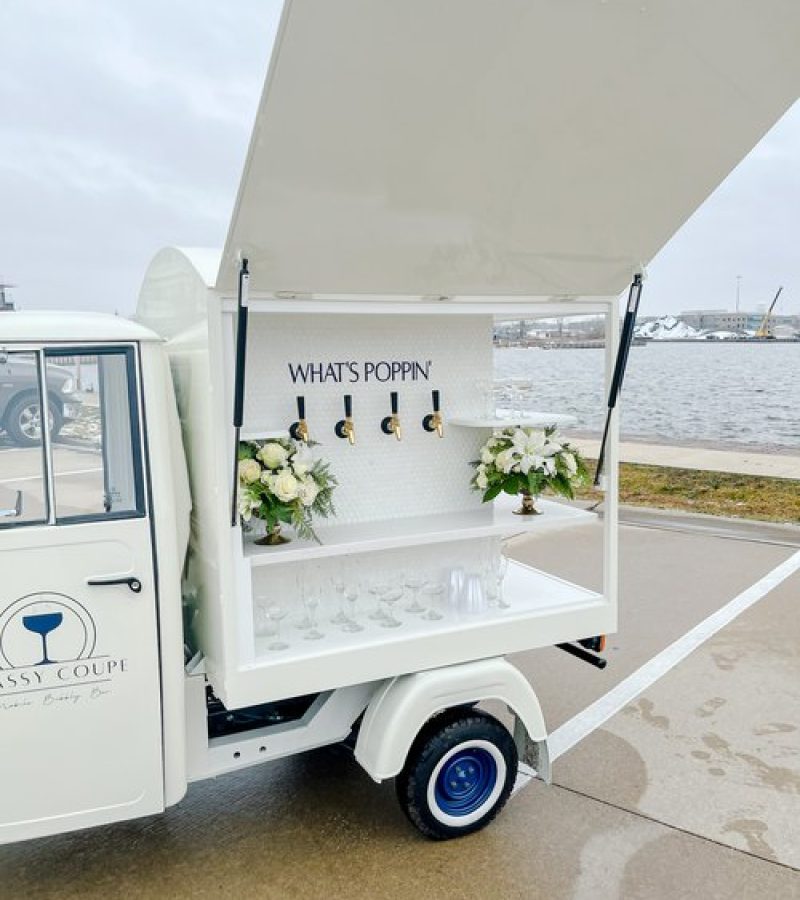 Now that we are all a bit tipsy, let's talk about food! Speaking with owner, Stephanie Ott of Base Bowls and Company, it's evident that she's not only a business owner but an owner with passion for her company and customers! Located in St. Joseph, Base Bowls and Company offers a wide variety of products to its patrons. Before we dive into all the scrumptious menu items, let's talk about the woman whose vision inspired it all!
Stephanie shared with me the story of how her business came to be. Years ago, she lived in Miami, FL and could never seem to resist an açaí bowl or delicious salad. However, after moving back home to Michigan, Stephanie found that type of food culture was not available here; she missed it! While mulling over ideas with family members, Stephanie was inspired and motivated by the love and support she received from them to start this business. On May 29th, 2022, she opened her doors to start her dream; a dream that began only the summer prior! To say I am in awe of how quickly she put her plan in action is an understatement! 
Base Bowls and Company has a wide variety of fresh menu items and is continually growing. Not only can you get the original menu, full of salads, sorbet bowls, lemonades, smoothies (my personal favorite) and much more; as of November their line of soups and sandwiches were also released. Oh, and did I mention they aren't done expanding?!? That's right, they will be releasing new menu items in late spring; be sure to keep an eye out for these!
Customers are able to place individual orders online for pick up. Typically 15 minutes is needed to prepare your nutritious lunch or, if you're looking to treat the whole office, allow 30 minutes for pick up. They are also available for catering, and love being involved in your big event! Same day catering orders are available upon request but they ask for as much notice as possible to make sure everything is beautiful and as delicious as possible for your event.
When asked about the one thing Stephanie wanted her customers to know or remember, she said; "We truly appreciate each customer. We take pride in providing customer service and our customers have become like family to us. We are very thankful to serve an incredible community." In less than a year, Base Bowl and Company has served over 20,000 customers! The time and dedication that Stephanie and her team have put into their dream is evident everyday through their attitudes and products they put their name on. So, if you are looking for a new, fresh, and delicious spot to check out, swing by and let them fill you up!