When it comes to staying fit, it may seem you have to pick just one: walk or run outdoors, surrounded by grass and trees, or do a more traditional gym workout with fitness equipment indoors. But what if you don't have to choose? A growing array of outdoor fitness parks in Berrien County combine the rejuvenating effects of nature with the fitness-boosting power of gym equipment. If this summer's heat drove you indoors to exercise – or led to you neglecting your routine entirely – you can now breathe a sigh of relief (and get back outside!) as the temps become cooler this fall. Check out these outdoor fitness centers that will get you moving in the fresh fall air!
This free outdoor gym, a partnership between Priority Health, Oronoko Township, and National Fitness Campaign (NFC), opened on September 15, 2022. It's located across the street from Sylvester Elementary School and features seven body-weight exercise stations that allow people of all abilities, ages 14 and up, to get a complete, full-body workout. The free Fitness Court app acts as a "coach-in-your-pocket", guiding participants on how to use the equipment and turning the outdoor gym into a "digitally supported wellness experience."
"We are thankful to partner with Priority Health, Berrien Springs Public Schools, the Village of Berrien Springs and our local community to offer this amenity to our residents and visitors," said Mike Hildebrand, supervisor of Oronoko Charter Township. "We're hopeful that people utilize it and enjoy outside exercise to improve and maintain their health."
Whether you're dreaming of doing a Tough Mudder or Spartan Race, or just want to get more fit in a fun outdoors environment, The Woods makes it possible to get in some solid training while testing your obstacle-course mettle. The Woods Fitness Park boasts over 3 miles of trails, over 60 obstacles, and workout stations along the way, allowing people of all fitness levels, from beginners to obstacle race elites, to create a unique fitness experience that challenges them where they are. Climb up ropes, scramble over walls, throw tires and spears, crawl, jump, balance and more in this outdoor playground for kids and adults alike. Open daily, dawn to dusk.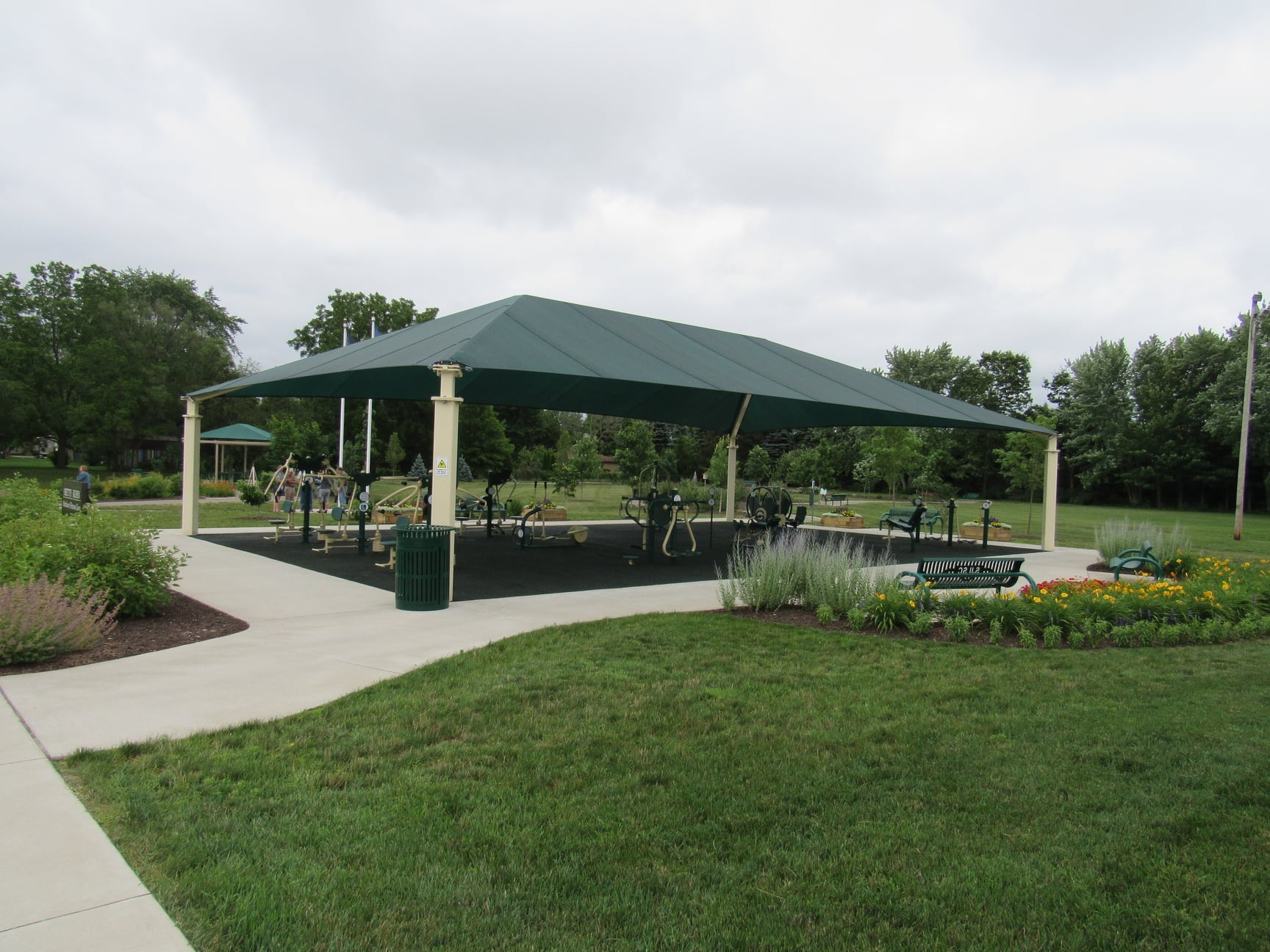 The idyllic 7-acre park behind the Senior Service Center building opened in 2018 and includes the Betty Kohn Outdoor Fitness Zone, which boasts 12 unique exercise stations nestled against a backdrop of gardens and the Priscilla Upton Burns Walking Trail. The fitness center is covered to protect against the elements, can be used by up to 24 people at once and is wheelchair accessible. The park is dog-friendly (please pick up after your pet!) and open to the community. Watch these videos to find out more about the equipment available at the Betty Kohn Outdoor Fitness Zone and how to use it!
Whichever exercise experience you choose, fall in Southwest Michigan is an amazing time to get outdoors and enjoy crisp air, cool temperatures and all the sights and scents of autumn. Make this the fall you reach your fitness goals – it's all possible here in Berrien County.