Put away the crockpots and bust out the bag of charcoal, soup season is officially over and the undisputed king of summer is ready to resume his reign atop grills across Southwest Michigan.
It's burger time, baby.
And what better way to kick off grilling season than with a virtual smorgasbord of ground beef possibilities. We asked Buy Local Berrien members where to find the best burgers in our area, and they answered. If you're looking to elevate your next meal from plain to deluxe, check out this list of 12 local burgers recommended by local folks.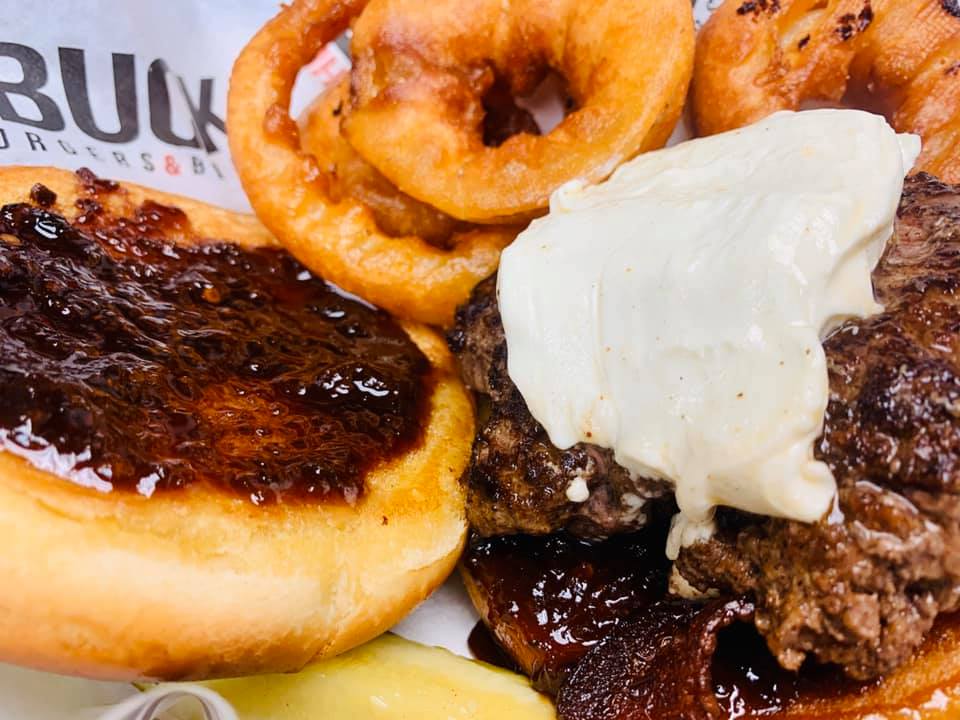 1. The Buck Burgers & Brew – Thornburger
To kick off our list, we're starting with the highly touted Thornburger from The Buck Burgers & Brew in downtown St. Joseph. A seven-ounce Angus beef patty topped with Buck bacon, cream cheese, and raspberry-jalapeno jam, as one fan exclaimed, "It's the perfect combination of salty, sweet, and spicy." And if you're looking to add a little more excitement, they'll even throw a fried egg on top. This burger is best served with a local brew and rooftop view of Lake Michigan. Luckily, you get both with The Buck. Spin the Wheel-of-Indecision and let fate choose which of the 74 draft beers on tap you'll enjoy with your delicious dinner.
2. Farmer's Country Club – Garbage Burger 
Described as "a neighborhood Bar and Grill where everyone is welcome," Farmer's Country Club in Benton Harbor makes a mean Garbage Burger. Just as the name suggests, it comes fully loaded with cheese, ketchup, mustard, pickle, onion, mayo, olives, lettuce, and tomato. Highly recommended by BLB members, this burger is a big winner in the popular vote.
3. Grand Crossing – Olive Burger
A name synonymous with great burgers, Grand Crossing Bar and Grill in Benton Harbor is a huge hit with Southwest Michigan natives. Rumored to be the home of the original Roxy Burger (if you know, you know), this popular joint offers single, double, and triple patties with all the fixins and fans rave about their Olive Burger.
4. Chatterbox Bar and Grill – Buffalo Blue Cheeseburger
Known as "The Home of the Burger," Chatterbox Bar and Grill in Benton Harbor is a burger lover's paradise. Fans love their Buffalo Blue Cheeseburger, made with a half pound of fresh ground chuck and topped with lettuce, tomato, caramelized onions, blue cheese crumbles and buffalo sauce. A quick scan of their menu offers a plethora of other toppings to please your taste buds, and the amazing reviews suggest you might just want to try one of each (many BLB members love their classic cheeseburgers). 
5. North Shore – Ring of Fire
Serving award winning burgers for 25 years, North Shore is a sure bet for a great meal. If you're looking for something with a little kick, check out their Ring of Fire burger. This popular item includes 1/2 pound patty topped with chipotle pepper jack cheese, salsa verde, chipotle mayo, and onion ring on a toasted sesame seed bun.
6. Iron Shoe Distillery
Serving craft spirits and beautiful burgers, Iron Shoe Distillery in Niles is quickly becoming a local favorite. All Iron Shoe burgers are made from all-natural anti-biotic/hormone-free Angus beef served on a buttery brioche bun with a dill pickle spear on the side. The Big Bad Wolf burger comes with American cheese, haystack onion straws, a fried egg, garlic aioli, and plenty of flavor. Gluten Free fans love Iron Shoe because you can sub their signature bun for a delicious GF option.
7. T's Tap – T's Burger
Stop into T's Tap in Coloma, "your friendly local waterin' hole," for a crowd-pleasing T's Burger. Order it deluxe or garbage style, and pile on the cheese and Canadian bacon for a burger that will leave your taste buds singing. A pub burger done right, with a loyal following of local fans.
8. The Tavern – Bacon Cheeseburger
Located in Niles, The Tavern makes a dang good bacon cheeseburger that keeps locals coming back for more. If you're in the mood for a solid pub burger, you can't go wrong with this classic – loaded with bacon strips, melted cheese, and all the extras you can pile on top.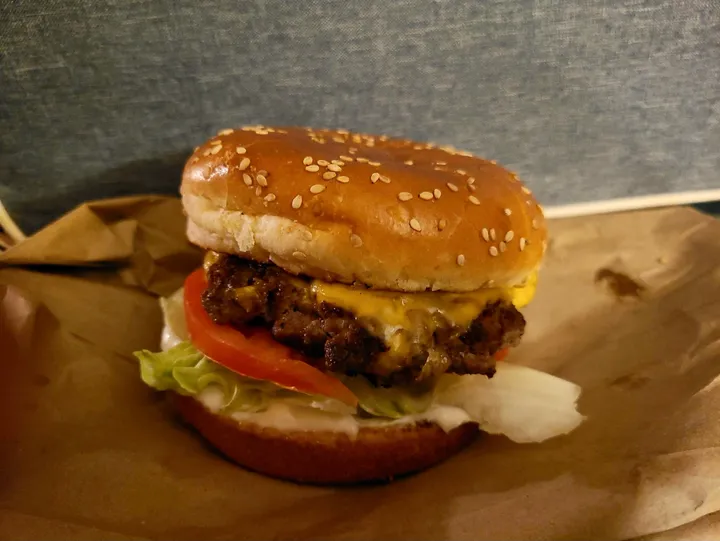 9. Kathy's Riverside Tavern – Cheeseburger Deluxe
Listed frequently by locals for a favorite burger joint, Kathy's Riverside Tavern ranks high on the list. With Happy Hour every weekday from 4-6, it's a perfect stop for a burger and a brew after a long day at work. Choose your toppings and take it to the next level, and taste what everyone is talking about.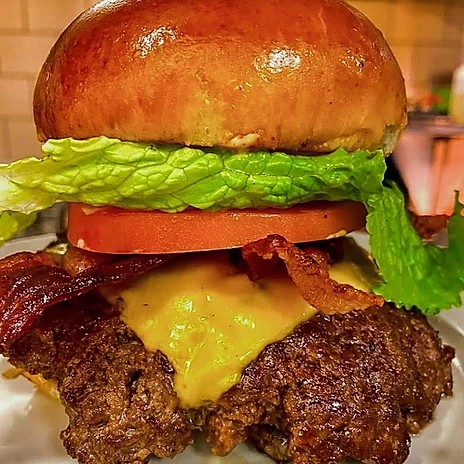 10. The Brick House – Smash Burger
Specializing in "good mood food," The Brick House is the home of the Smash Burger. We're talking a Classic smash burger patty with American cheese, pickles, onion and brick sauce on a yummy brioche bun. It's a taste of pure Americana, and BLB members are wild about the sauce, the seasoning, and the stack of goodies on top.
11. Skip's Restaurant and Catering – Steak Burger
Described by one BLB member as "the best Steak Burgers around," Skip's Restaurant and Catering in New Buffalo offers eight-ounces of freshly ground filet, NY strip, and ribeye on a house-made bun with a wide range of available toppings. Choose from lettuce, tomato, raw or sautéed onion, American, Cheddar, Swiss, or Mozzarella cheese, pickles, bacon, and mushroom.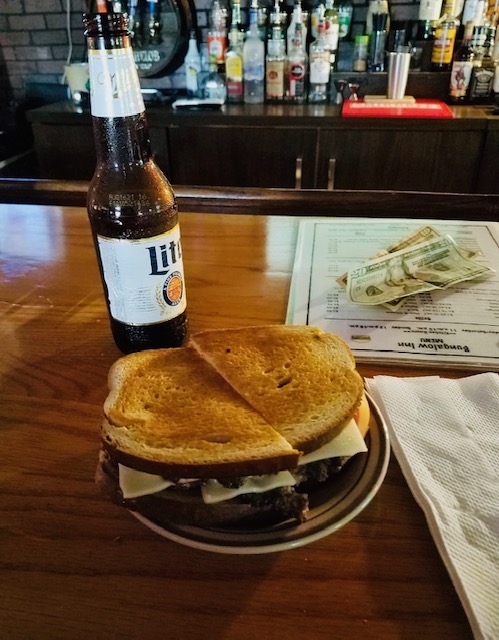 12. The Bungalow – Double Cheese Patty Melt
No burger list would be complete without The Bungalow, a local favorite on US 12 in Galien. As one BLB member describes, "With a friendly staff and regular customers, it feels like you've stepped into an episode of Cheers every time you visit." The Double Cheese Patty Melt is a crowd pleaser, and it pairs well with a frosty brew and good friends.
Hungry yet? Luckily, summer is just beginning, so there's plenty of time to check out all 12 of these burger joints before the leaves start to change. Support Southwest Michigan restaurants one burger at a time with this tasty bucket list worth trying.
This article – and your next summer beverage – are brought to you by The Buck Burgers & Brew, in downtown St. Joseph where the focus is always on local food and local people. Known as the go-to hangout for craft beer and gourmet pub fare, The Buck is an award-winning location for burgers and a great place to watch the sunset over Lake Michigan. Stop in today!
About the Writer: Stacey Martin is a local author and freelance writer with a passion for promoting Southwest Michigan. Take writing off your to-do list and inquire about content creation for your business at staceymartinwrites.com. She is the author of We Grow Kids Here and New Girl at Church, and the creator and host of "The Folks Back Home" podcast.