Every kid in Berrien County knows what's coming next week. Final preparations are currently in the works, and even though the county fair signals the end of summer, for many, it's the best week of the year.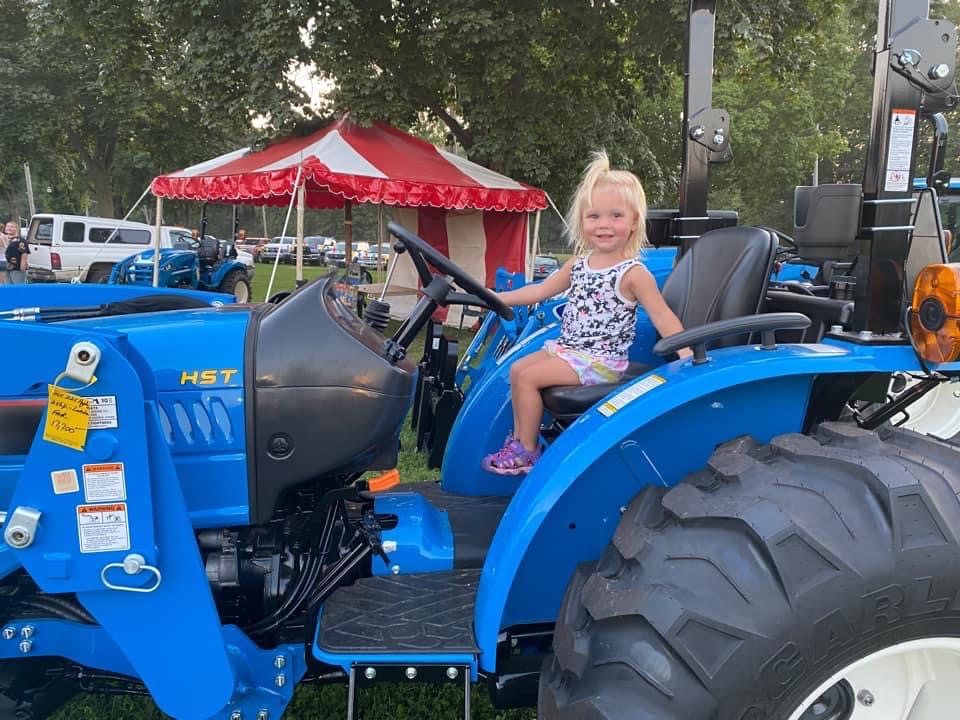 The Berrien County Youth Fair, established in 1945 and hosted at the fairgrounds in Berrien Springs, is a time-honored tradition and rite of passage for anyone who grew up in the Southwest corner of Michigan. If you close your eyes, you can still see the Ferris Wheel and smell the funnel cakes of your youth. Generations of Berrien County residents agree the fairgrounds are the place to be every year during the third week of August.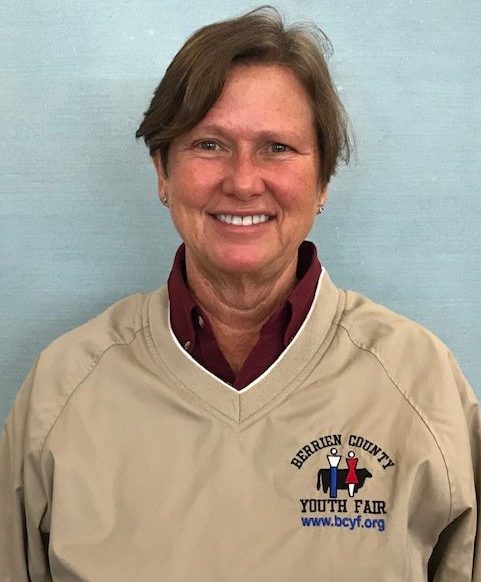 Fair Manager, Karen Klug, has been involved with the BCYF since the age of five, when her mom, Barbra Kolm, joined as Secretary in 1965. Klug served as Executive Director from 1995-2005, then joined the Fair Board in 2005 as Secretary while stepping down from her Director role to work alongside her husband in their local business. Klug later returned to the staff as Fair Manager, a position she's held since 2013. Karen says, "The Youth Fair plays an important role in our community and teaches kids lifelong skills such as responsibility, integrity, and the value of competition. Berrien County families have participated in this annual tradition over the last 77 years. Despite our busy schedules, it provides a welcome familiarity and a chance to catch up with old friends."
So, what's it all about? What are the things you can't miss? If you grew up going to the fair, you have your own list of Must-Dos, Must-Sees, and Must-Eats. But if you're a first-timer, here's a starting point to explore and a list of items to check off during your visit next week:
1. Youth Exhibits
Despite your cravings for cotton candy, this is the REAL reason for the fair. Kids across the county, from ages 5 through 20, work year-round for the opportunity to show off their still or live exhibits. From art projects and baked goods to farm animals and household pets, a walk through the exhibit barns is worth the price of admission. You can spend hours perusing the pies, enjoying the crafts, checking out the chickens, petting the goats, and visiting with the dairy and beef cows. And who can resist the fluffy cuteness in the Wonders of Birth Barn? For Tracy Mast, a proud Fair Mom and member of the Rabbit and Cat Committees, it's a tradition that began when she showed animals back in the 80s and 90s and continues with her three kids.
Mast says, "The fair is one week a year, but all of these kids have been working throughout the year to prepare. They get up early in the morning to take care of their animals before school and then do it again when they get home. Kids in 4H programs might not always be the straight-A students in school, but you'll never have to worry about their work ethic or selflessness when it comes to helping others."
According to Mast, fair families develop tight bonds over generations and depend on each other for help and encouragement. Mast says, "Heather Bachman and I love helping out families new to the rabbit barn. And, if you have a question about hogs or poultry, you know the Bakers and the Weinbergs will be in the barns to help. If you need help with goats, you can talk with the Glossinger family. These barns contain people with decades of knowledge, and everybody is willing to help." For many Berrien County families, it's the highlight of their year. Mast agrees, saying, "It's a special place where our kids are safe to run around with friends and get their first taste of freedom."
2. Fair Food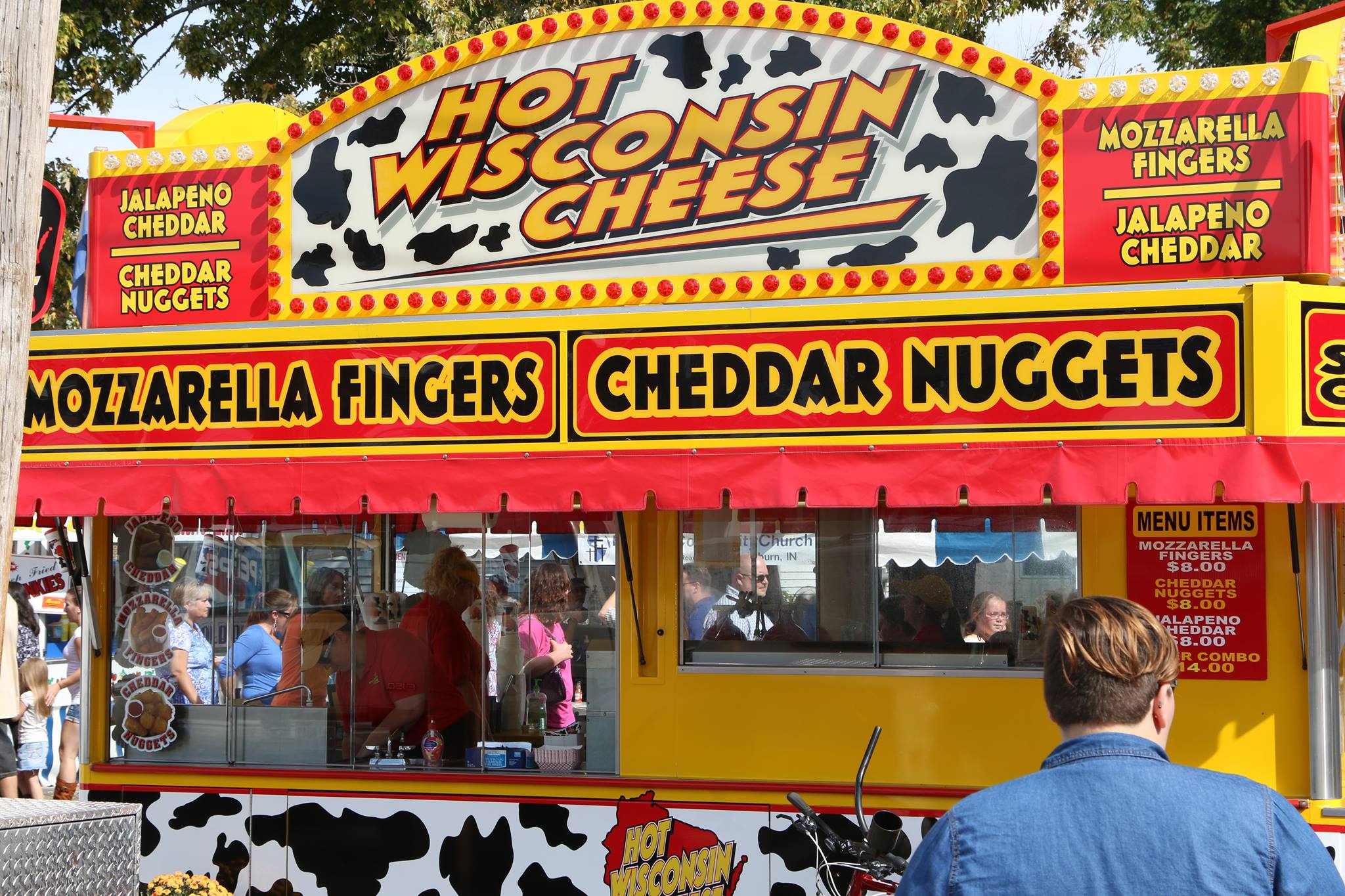 Where do we even begin? After you hit up the youth exhibits, it's time to use up all those calories you've been saving up for this week. I hope you wear your stretchy pants because this is no time for moderation. If you're in the mood for a hearty dinner, you'll want to start at Nedderman's for steak tips, onions, mushrooms, and mashed potatoes. Then, add an order of Megger's Hot Wisconsin Cheese Sticks and roasted corn-on-the-cob from the Buck-an-Ear stand that looks like a pirate ship.
You'll need something to wash that all down, so head to the 4H fresh lemonade stand or fill up a tin cup of frosty root beer. Take a lap around the Grandstand, then come back for round two. Grab some greek potatoes from the Gyro stand or some salty french fries in a styrofoam cup while waiting in line at Pure Pork for Fair Manager Karen Klug's favorite, the Heart-a-Mac special (mac-and-cheese with pulled pork on top). Take another lap through the Commercial Barns and get ready for dessert. The sky is the limit in this category.
You can choose from strawberry shortcake, elephant ears, cotton candy, a bucket of Barb's fresh baked chocolate cookies, deep-fried Oreos, cinnamon roasted almonds, and a milkshake from Wagner's Good Dips, and so much more. And don't even think about leaving the fair without a caramel apple from Rosie's Sweet Shack. That one's not a suggestion; that's an order.
3. Grandstand Shows
There are still tickets available for events to entertain the entire family. It all starts on Sunday with the Street Legal Pickup Truck and Tractor Pull, featuring four individual classes of trucks and tractors. 2022 is the first year for the truck pull, and the event will start at 6:00 pm in front of a local crowd and is a guaranteed good time. Tractor Pulls for different classes continue on Monday. Don't forget the obligatory picture of your little kid standing inside a giant tractor tire in the exposition area outside the Grandstand after the event – it's tradition.
On Tuesday, the Circus comes to town, and this free event for all ages happens at 1:00, 4:00, and 7:00 on Kids Day. On Wednesday, country superstar Granger Smith featuring Earl Dibbles Jr. will grace the stage, and tickets are still available at all levels. You get two nights of Demolition Derby with Thursday and Friday smash-ups to get the crowd going. Finish up the fun on Saturday with Bullmania, a crowd favorite that ties a bow on the big week.
4. Rides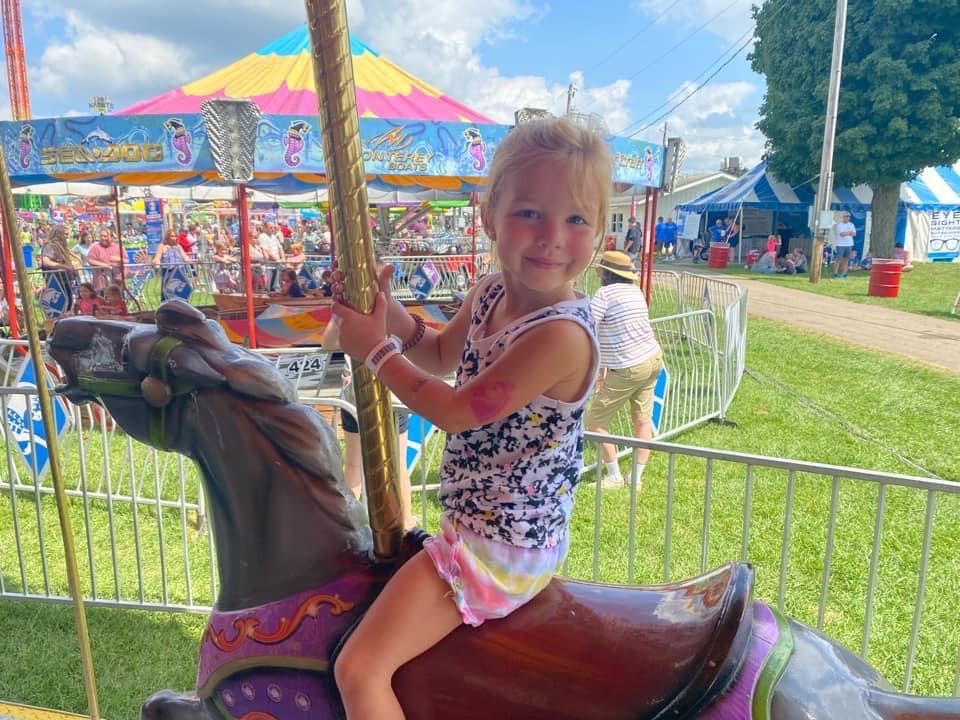 Speaking of entertainment, you didn't plan on coming to the fair and not going on a ride, did you? If you have kids, they're already asking if you've purchased their wristbands yet. Don't panic; they're still on sale for a discounted price of $25 at the fair office or any Honor Credit Union member center location until Friday, August 12 (or you can buy them at the fair for $30).
This year, the rides are provided by North American Midway Entertainment and will be open at 11:00 am on Tuesday for the week. From spinning bears to a spinning spaceship, preschoolers and preteens can enjoy varying velocities to their hearts' content. As their parent, you've earned the right to watch from the ground to ensure your funnel cake stays safely settled inside your stomach. And while you wave each time they pass by, you might recall the summers of your past when you ran with your friends from ride to ride, each year more daring than the last.
5. Horse Show
If you ask any member of the Equine barn, the best rides at the fair are far away from the neon lights and pulsing music. Hustle over to the horse arena for shows Monday thru Saturday, with a special class on Sunday for versatility. According to 13-year-old Logan Edgerle, "I love showing my horse, Nick, at the fair because we are a team, and it's just him and me out in the show ring. We've grown as a team over the last four years, and it's fun to see how much we improve each year at the fair."
6. Auction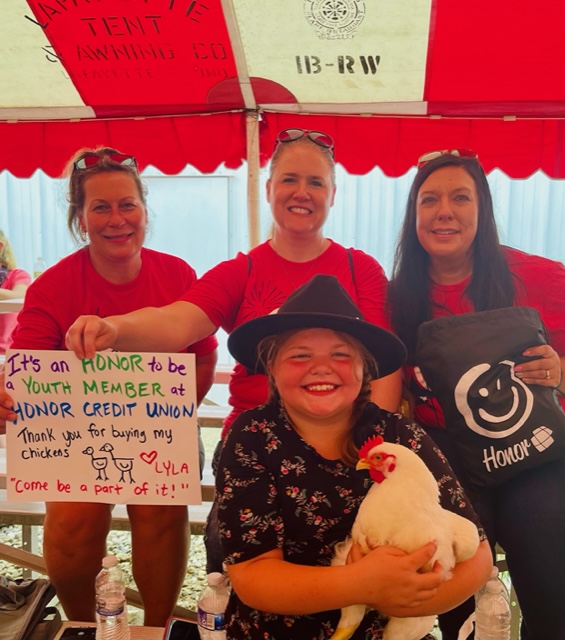 Did you know that you can help fair kids go to college simply by supporting them at the auction? For many, the money earned for market animals at the auction helps purchase animals and feed for the following year and is often saved to help pay for secondary education opportunities. These kids work hard for the money they earn, and financial support from residents and local businesses helps fund their dreams. Jessica Kehrer, Fair Mom and longtime bidder for Honor Credit Union, says, "Being part of the auction provides a way for us to positively impact the kids' financial futures and directly support their passions. The BCYF is a staple in our community, and we love supporting those who participate." Bring your checkbook and generosity to the small animal auction on Thursday morning at 9:30 and the large animal auction on Friday at 9:00. And replace your store-bought meat with homegrown pork or beef raised locally by an industrious farm kid. According to Klug, "Participating in the market auction teaches kids the economics of raising animals, a skill that will translate into learning the economics of raising themselves."
7. New Stuff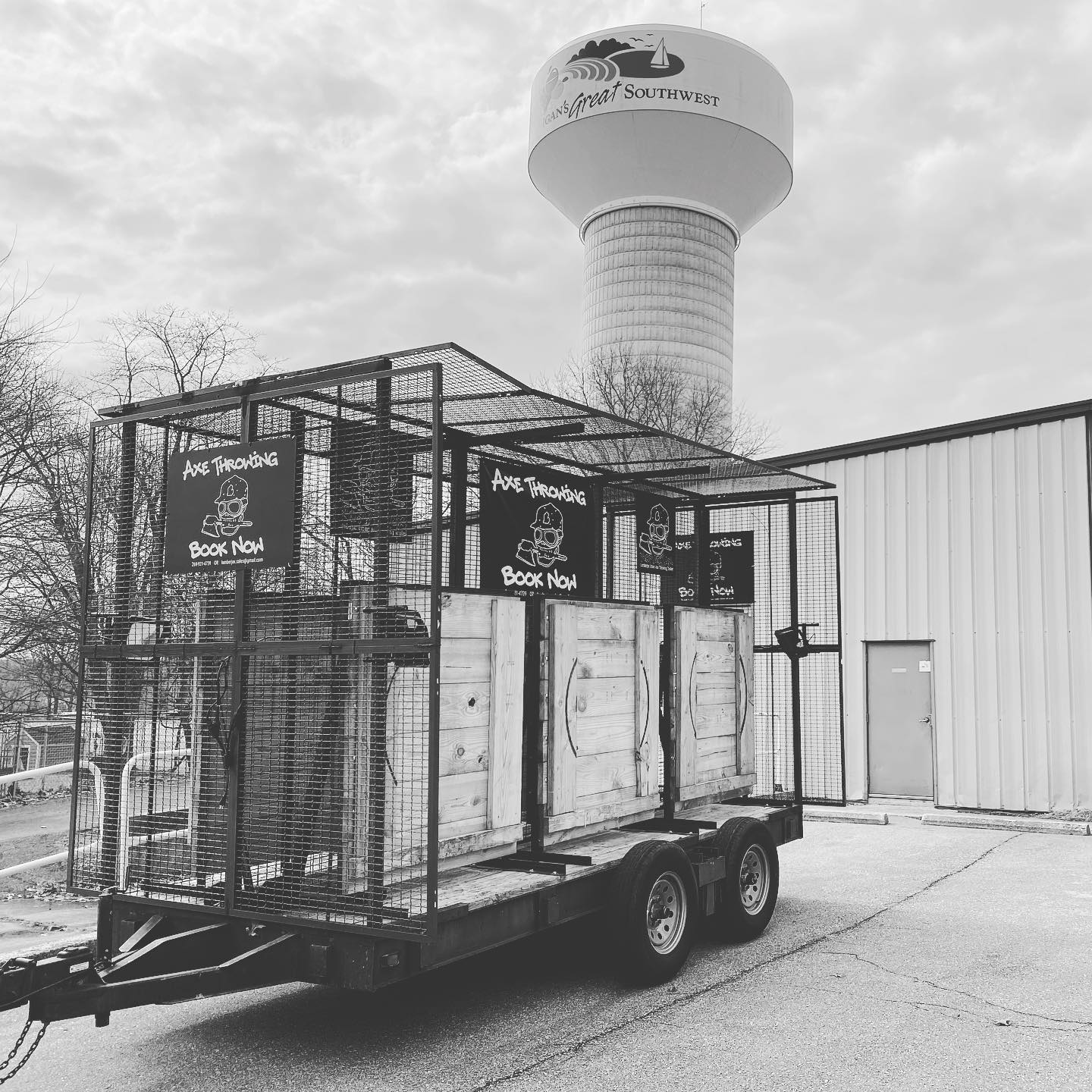 There's always something new at the BCYF, and this year is no exception. Check out the unique chainsaw carving of a big tree in the mall area and stop by on Friday and Saturday to watch the robotics demonstration. This year's free attraction is ax throwing, as Nomad Jax will be there from Lumberjax to provide demonstrations and teach fairgoers about the sport. If you're looking to test your ax-throwing skills, they're hosting a competition all week long. Also, this year, there will be a still exhibit auction on Saturday morning at 10:00 where young people can register for their craft item to be sold to the highest bidder – earning money through creativity and artistic talent.
8. Korn Dogs
You thought I forgot, didn't you? Nope, this one deserves a kategory all on its own.
The Friends for Berrien Springs provide a true masterpiece on a stick, and the end product is always worth the wait. What makes the famous Korn Dog (with a K) so delicious? According to legend, it's a secret recipe over 50 years old that includes quality ingredients that are hand-mixed, hand-dipped, and made with love. It's such a closely held secret that even the workers don't know the exact measurements. The magic works, and Tom Wicker, President of Friends For Berrien Springs, says they sell approximately 32,000 original all beef Korn Dogs throughout the week and proceeds go to support the organization on its 70th year of operation, a group that has rolled more than two million dollars back into the Berrien Springs community since 1952. The Friends For Berrien Springs supports scholarships for local Seniors, the Youth League at Greater Berrien Springs Rec Department, Shop with a Cop, Green Engineers (Berrien Springs Robotics Team), the annual Easter Egg hunt, a new roof for the American Legion, and much more.
According to Wicker, "One of our goals is to offer a quality product that is affordable, so families can come enjoy the fair without having to spend a fortune on food. Despite price increases on supplies, we are once again able to offer Korn Dogs for $2 again this year at the fair." Wicker continues, "All of our supplies are purchased locally, and all of our workers are local – we have many churches and civic groups that work at the Korn Dog stand during fair week as their fundraiser."
More than just a required stop on your annual pilgrimage to the Berrien County Fairgrounds, the booth holds a lot of nostalgia. Berrien County native, Jessica Elliott, recalls "Growing up, before cell phones, whenever you'd need to make plans to meet up with friends at the fair, you could always say 'Meet me at the Korn Dog stand' and everyone knew where that was."
9. Volunteers
With so much going on at the fairgrounds next week, you might as well take a few staycation days to enjoy it all. With over 1,000 volunteers every year and over 70 standing committees, BCYF is truly an event for the community, by the community. According to Klug, "Without the volunteers, we wouldn't be able to pull this off. With only four full-time staff members, some seasonal summer staff, and an 18-person volunteer board, we depend on our volunteers from across the county to make this event happen every year and are so thankful for all they do." So, when you see a volunteer next week, stop and say thanks for their dedication to a fun event for the whole family.
10. Royalty
Did you know we have official ROYALTY that presides over the fair? Seriously, a real Queen, King, Prince, and Princess with crowns, sashes, and everything. But, because they're fair kids, these aren't your typical royals – these ladies and gents work all week long to represent BCYF. If you're still on the fence about attending (there might be two or three people left in the county that aren't impressed by cinnamon sugar elephant ears), surely you can't resist a chance to meet royalty! The new court will be crowned this Friday, August 12, and 2021 BCYF Princess Emily Holt says, "The fair is special to me because it's an entire week spent with family, friends, and my animals that I put a lot of time and effort into!"
There's something for everyone at the Berrien County Youth Fair, and the fun kicks off Monday, August 15. See you at the Korn Dog Stand!
---
About the Writer: Stacey Martin is a local author and freelance writer with a passion for promoting Southwest Michigan. She writes content for businesses to clarify their messaging and improve their marketing. Take writing off your to-do list and inquire about content creation for your business at staceymartinwrites.com.